Vision
An e-magazine for all things related to MBSE and system ontologies.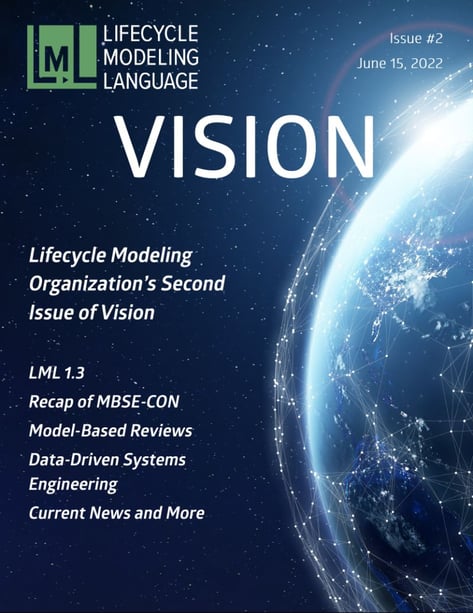 Vision Magazine
Become a member to take advantage of all of LMO's benefits. The Vision Magazine is sent to all members as soon as it's available
Email info@lifecyclemodeling.org to request a template. Submissions must be 1-2 pages in length. To contribute to the LMO Vision, articles must be submitted by the deadlines listed below, any late material requires written late permission by contacting the editorial team at info@lifecyclemodeling.org.
To inquire about advertising in the Vision magazine, contact info@lifecyclemodeling.org.
Publication Date
Submission Date
Publication Theme

3rd Quarter: 15 September 2022

15 August 2022

LML Specification Updates




& Current News

4th Quarter: 15 December 2022

15 November 2022

Planning for the MBSE-CON, LMO Year's End & Current News
COST

— Cost Modeling

— Cost as a design variable

— Education, Training Costs

— Learning Curves

— ROI on Data-Driven System Approaches

— Tool Costs, open-source tools

— Access to systems-related tools

— Workforce development

SCHEDULE

— MBSE schedule compression

— Lifecycle applications

— Project Engineering modeling

— Left side vs right side of "V" implementation

— timing of model validation

— Milestone model delivery

— Model-based design reviews

— Agile and MBSE
PERFORMANCE

— MBSE and other model integration

— MBSE and DE

— Scaling of models

— Ontologies, languages and frameworks - oh my

— Data sharing between models

— Model collaboration

— Interface-Driven Design

— Leveraging Design Patterns in MBSE

RISK

— Driving down project risk through MBSE

— Modeling Risk and Mitigation

— Risk informed design

— Probabilistic Risk Assessment

— MBSE in secure environments

— MBSE and cyber security